Tjitske STER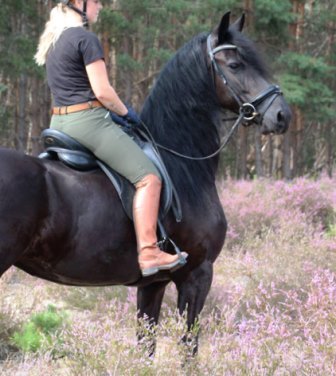 Buying Price:
TBA
Horse Description
Height: 16.0 hands
Super gentle and Gorgeous 5 yr old, 16 hand tall Friesian mare for sale.
And she just made STER!!! Tjitske was first in her group at the keuring, which is 3rd party verification this mare has the tippy TOP BEST conformation and movement, according to the Dutch Judges! She has a very interesting and uncommon bloodline with a very low inbreeding and 'verwantschap' (she has whats called a free bloodline). She is in foal to the approved stallion, Ulbe and the combination of Tjitske and Ulbe is also again very interesting because of that free blood. Especially since the foal will have a very good paper, with a STER dam; the foals motherline is going to be textbook:
STER-KROON-STER+PREF-STER+PREF
Can't get much better than that!!!
This full pedigree STER friesian mare for sale is free of dwarfism and hydrocephalus based on her bloodline.
FANTASTIC 2 for 1 Deal!!!!!
Tjitske was a 1st priemie foal, she just made STER herself, and she is confirmed in foal to the approved stallion Ulbe in the Netherlands!
Alke 468 X Doaitsen 420
stam line 47
Tjitske is not only an amazing friesian STER mare, easy to ride, uncomplicated, she really has spectacular RARE papers, if you are looking to start a TOP NOTCH breeding program, this would be an excellent mare to do it with---mother is a KROON mare, Boukje, and grandmother is STER + Pref ( who has had 4 ster offspring) and great grandmother is ster + pref---also has had 4 ster offspring. This is a well respected HIGHLY PRODUCTIVE line---it's not often you can buy mares that are out of KROON mares!!!
AND she is bred to the Approved stallion, Ulbe!!!! Ulbe is a son of Anders 451 and he was bred in Denmark out of a Star Preferent daughter by Anton 343. Next in the dam line (pedigree 10) are Star Preferent daughters by, respectively, Hearke 254 and Cobus 248. Last year there were 32 stallions referred to the Central Examination, and only 6 stallions "made it". Ulbe 506 is one of them, and he is a hot new kid on the block!
This is a fantastic buy and opportunity to own a kind, sweet mare that is a super pleasure/dressage/family/trail horse---who will give you yet another friesian next spring, 2020!!!!
This is ONE SPECIAL FULL PEDIGREE STER Mare!!! That also happens to be an excellent 2 for 1 deal:)
For those of you just learning the bloodline "ropes" of friesians and wanting a TOP NOTCH Friesian mare.... having the SPORT predicates acquired by Tjitske's father and dam's father is a good predictor of producing horses that will be GREAT in sport, and athletic! -----it can't get much better!
It doesn't stop there...Tjitske is really a NICE all around horse your whole family can enjoy. Just get on, go walk, trot, canter, and have a BALL! You dont have to be an upper level rider to enjoy this long haired friesian mare for sale!
And that's not all.... she has a low 0.39% in-breeding.
This gal, with uphill conformation, and super LONG hair, and excellent movement, will give you a lovely Ulbe foal in 2020.
This is a no-brainer for those of you looking for a stunningly beautiful mare that is an incredible 2 for 1 package AND is excellent to ride in a variety of settings --and very safe on trails.
Tjitske is an outstanding value, as she can nearly pay for herself in less than 20 months.
Tjitske is $29,900 to NY, or $31,900 into LAX, Chicago, Miami, or Canada. This one will NOT last at this price!
Videos
back